Have you ever wanted to start a blog or website? In this article, I will walk you through the steps necessary for creating just that.
Pick A Niche
I skipped this step, but that does not mean you should. A niche is a topic that will be the focus of your writing. There are many niches to choose from like food, fashion, games, travel, sports, etc. There are also lifestyle blogs, which cover many different topics.
Most people recommend that you have some passion for the niche you are writing in. Otherwise, you might find it hard to keep creating content for your audience.
Perhaps, I have not found my niche due to a lack of passion for a specific topic. Do I like food? Yes. Do I want to write about it? Sometimes. But this article is not about me. It is about you and your possible journey towards owning your piece of virtual real estate on the World Wide Web. So, let us continue.
Name Your Blog or Website
Before you seek to find hosting and register a domain, you need to think about what you will name your site. Many people choose a name based on their niche. Others use their name in some way, maybe if they are using their site as a portfolio.
Furthermore, you will also have to research to see if the domain name you want to use is available. One place you can check is at Namecheap.
Find a Host and Register Domain
Next, you need to find Web hosting. A host is a service you pay for to store your website and its contents. Many hosts provide good discounts for first-time customers. I currently use Hostinger.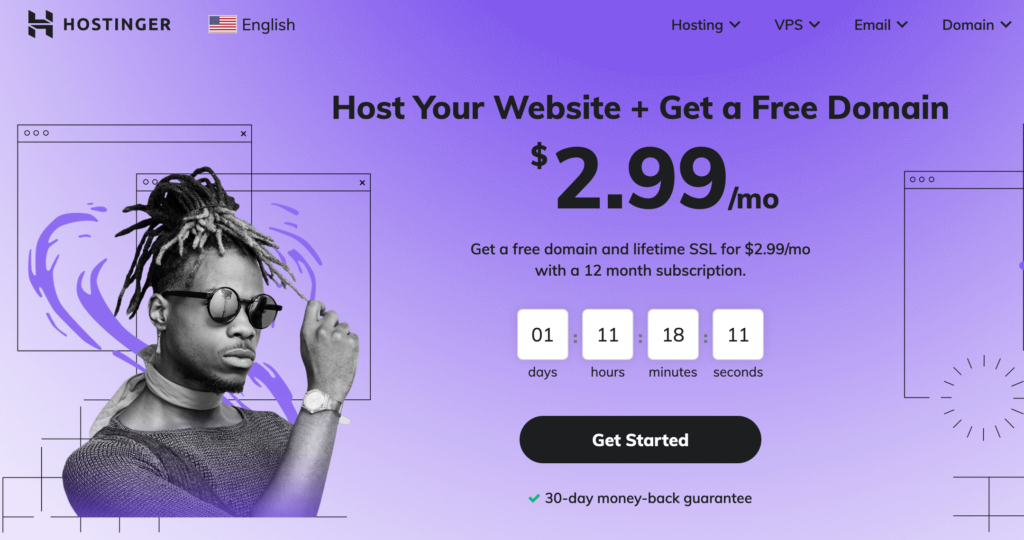 Other websites may recommend hosting companies such as BlueHost, GoDaddy, and Host Gator. Although other websites pointed me to those hosts, I discovered another host called iPage. They hosted my first blog. The price was fair, and they provided good support.
Between iPage and Hostinger, I will tell you that Hostinger has the better offer when it comes to cost. I paid for three years of hosting on iPage and spent half of that for four years on Hostinger. I call that a win.
Most web hosts offer to register a domain free for the first year. And after that year is over, you will have to decide if you will renew it again through your host or purchase it through another website, like namecheap.com
Content Management
Now that you have selected a host for your website, you are ready to add content. Are you wondering how you will keep track of the content you are producing? There are solutions to help you out.
WordPress
Many web hosts primarily offer WordPress as part of your purchase. If you chose Hostinger as your web host, they probably already installed it for you. If you went through another host, don't hesitate to ask tech support for help with installing it. They will be glad to help.
As with all content management systems, WordPress allows you to create and manage blog posts and pages, including the images, videos, and other content you want to share. You can save drafts of posts and pages before publishing them to your site. Additionally, WordPress allows you to manage comments on blog posts and feedback from forms.
Also, WordPress has plugins you can install from the plugins page that can assist with many website tasks. Everything from SEO to security as well as page builders. You can also install premium plugins that enable more plugin-specific features.
Alternatives
Although I cannot tell you if these are better options, Joomla or Drupal are two alternatives to WordPress. I have not used either of these management systems. However, I believe it boils down to user preference, similar to if you were to compare Windows to macOS.
Choose a Theme
WordPress offers many themes to choose from for your website. Using a Theme changes the appearance of the content viewed by visitors to your website. They provide ways to customize the fonts, colors, the layout of content, and where and how you want your content to appear.
Presently, I am using the free version of the Hueman theme. It has many customization options that other free Themes do not offer. I have been considering purchasing a premium theme. You can search for premium themes online.
To add a theme, hover your cursor over 'Appearance' on the left side and click on 'Themes.' At the top of the next page, click the 'Add New' button and look through the available Themes. You can preview a theme before deciding to use it.
After choosing a theme, you can hover over 'Appearance' again on the left side and click on 'Customize' to change how your website looks.
Create Content
Now that you have selected and customized your theme, you are ready to begin creating content. In WordPress, the toolbar on the left will be your guide. Posts for creating blog posts. Pages for creating web pages. And Media to upload files you would like to share or use on your website.
Do you have to create blog posts? No, it is your website. You can create content the way you want to. If you want to stick to using pages, that is perfectly okay. You will also want to become familiar with the 'Menus' link in 'Appearance.'
Here is a list of recommended pages that you should begin working on right away:
Privacy Policy
About
Sitemap
Contact
Service Page
Affiliate Disclosure
404 Error Page
Monetize
Lastly, after you have created enough content and established yourself online, you can find ways to monetize your website. You can apply for Google AdSense and have google place ads on your posts or pages. You can become an affiliate and sell someone else's product. Amazon has an affiliate program and could have potential. Also, you could learn how to use WooCommerce and sell products you have on your website. The possibilities are endless when it comes to monetizing.
In Conclusion
I hope that you were able to learn how to start a blog or website. We went over picking the niche or topic that your website will be about. After that, we discussed naming the blog or website. We also covered finding a host and registering a domain. And then how to manage your content using a content management system, choosing a theme, and creating content. And finally, we discussed examples of ways to monetize.
If you enjoyed reading this article or have anything to share, please take a moment to leave a comment.